I can hardly wait to get this baby in my hands!!!
Inspiration Vue™ Pre-Order Information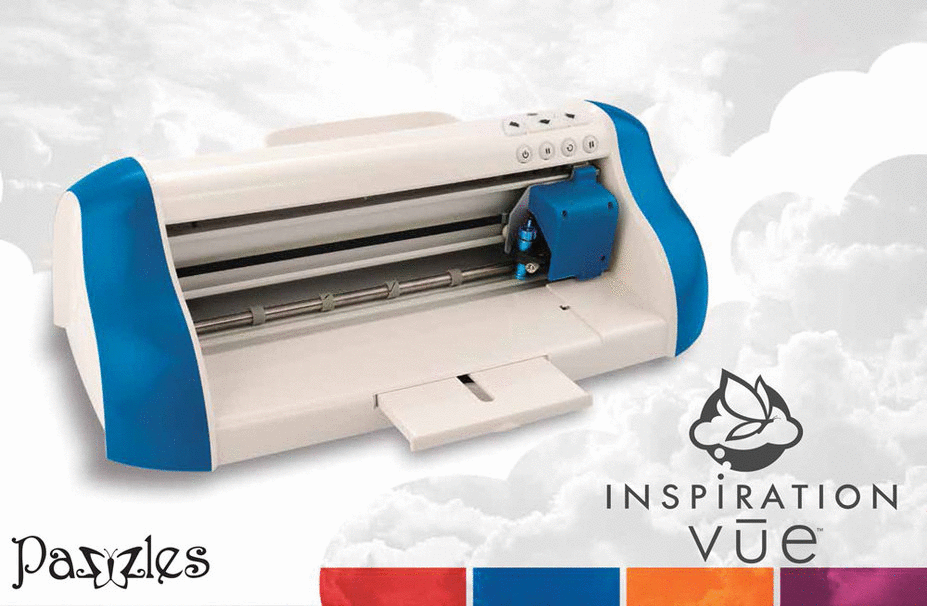 Introducing the Inspiration Vue™. The powerful creative cutter you know and love, with sleek new upgrades and in fresh trendy colors! With the release of the Inspiration Vue we bring you patent-pending precision print and cut, brand new Mac and Windows compatible InVue design software, enhanced mat feeding and stability, and even more cutting power. All of this at a reduced price. The Inspiration Vue is a DIY crafter's dream.
We've answered a few of your burning questions in our
FAQ post
but we know you are excited and want every detail. Keep reading to the bottom of this post for details on a pre-launch party Monday March 10.
Precision Print And Cut
The Inspiration Vue features a new optical eye to make Print And Cut projects easy and accurate. Our revolutionary new system scans the actual page to determine cutting placement. It is not necessary to use registration marks, thus reducing paper waste. Registration marks can be turned on for enhanced accuracy, or for those who prefer registration marks. The result is accurate cuts around images you have printed on your home computer.
Mac and Windows Compatible Software
The new InVue design software will be shipped in the box with the Inspiration Vue machine. You'll find several fun features within the software suited for Print and Cut designs such as a slider to set color transparency, and transparent PNG importing. The InVue software will allow you to open SVG or WPC files directly onto your page and then save them directly to a SVG or PVG (Pazzles file type) file. One of the most exciting features of the InVue software is that it will be fully integrated with the Pazzles Craft Room so it will be easy to access your downloaded files. Initially the InVue software will be available with the machine, but it will be available for purchase as a stand alone product as well. The InVue software will work with both the original Inspiration and the Inspiration Vue. Watch for more details coming soon. We will also be selling Inspiration Studio Pro 2014 software soon. Studio Pro 2014 is for Inspiration and Inspiration Vue users who want to take their design skills to an advanced level.
Pre-Order the Inspiration Vue March 10
Pre-orders will begin Monday March 10 at noon MST. At that time we will open pre-orders in the
Pazzles online store
. The pre-order option requires a $50 non-refundable deposit towards the purchase of your machine. This will hold your place in line and we will ship according to the order in which we receive your deposit. When pre-ordering, you will be asked to select either an outright purchase at $399.00 with two free months of Pazzles Craft Room, or a Craft Room subscription commitment of 24 months with $99 down, or a 12 month commitment with $199 down. A Craft Room membership is $19.95 a month. You will receive an email confirmation once you have paid the $50 deposit letting you know your machine is held. When the machines arrive in our warehouse we will notify you and send instructions to complete your purchase.
Those who are under a current subscription commitment may buy the Inspiration Vue outright, or wait until their current commitment is fulfilled before selecting the commitment option. We will not be combining new subscription commitments with the remaining months left on a previous commitment.
Wholesale and retail representatives should contact Camilla directly for details on pre-orders for resale. She can be reached at camillah@pazzles.com.
Craft Room Loyalty Special
Craft Room members are VIP's at Pazzles. For a limited time Pazzles Craft Room Members will be able to purchase the machine outright at a 15% discount. Complete the pre-order process as described above and select the outright purchase option. Your 15% discount will be applied on your final purchase.
Warranty and Support
The Inspiration Vue comes with a 1 year non-transferable warranty on parts and labor and 1 year of free technical support. As always, Craft Room members get unlimited free technical support.
International Ordering
We are happy to ship overseas, however international shipping charges will apply. We estimate $100-$150 shipping depending on destination. Additional customs and duties fees may apply. We have distributors in Australia, Germany, and South Africa which can reduce the cost of shipping to you. Please see our
International Store Locator
page for contact information for these retailers.
Pre-Order Launch Party
Now that we've covered all the details, it's time for the fun. Join us Monday March 10 at 9 am MST for a pre-order launch party as we countdown to purchase time. Join us in the member chat area for games, fun and prizes. Check the blog Monday morning for more details.